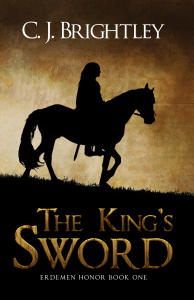 Have you been interested in reading The King's Sword but haven't gotten around to it yet? Here's your chance to get it for free! CLICK HERE
I just uploaded The King's Sword to NoiseTrade, a free distribution platform. All you have to do is sign up with your email address and download it as either a .mobi (Kindle) or .epub (almost everything else). You're welcome to give me a tip ($5 is suggested, the same as the retail price for the ebook), but it's not required.
The greatest challenge to being an indie author is being discovered. I've gotten some good reviews and I know people enjoy my books, but I haven't been able to reach as many readers as I'd hoped to. Please help me out! Please share this post and/or my NoiseTrade page.
Depending on how this goes, The King's Sword may stay available for free (with an optional tip), or I may remove it. Success is defined as finding new readers, so please help me make this successful! Share it with anyone and everyone… the more, the better!