Good afternoon! How are you? Thank you for making the Still Waters release fantastic! Super special thanks to those of you who have written such lovely reviews! The paperback is now available, as well as the ebook. If you don't have it yet, I've pasted a snippet of Francesca Forrest's "The Stars' Chill Song" at the bottom of this post so you can get a taste of the stories.
To celebrate the release, I'm giving away an audiobook of The King's Sword! If you win and you already have an audiobook of The King's Sword, you can choose another of my audiobooks or a signed paperback of any of my books. 🙂
Click here to enter! (Entering doesn't share your email address with anyone but me.)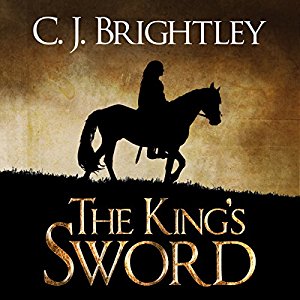 Noblebright fantasy is fantasy with a thread of hope even in the darkest hour, with characters who strive to do the right thing, even when it costs them everything.

In this exciting collection of noblebright fantasy, fresh new fantasy voices and award-winning authors explore grief and hope, sacrifice and heroism. Rediscover the best aspect of classic fantasy – the noblebright ideals that made heroes heroic, even when the world grew dark around them.

Wizards, princesses, peasants, schoolchildren, griffins, and the song of the stars shine brightly in these wide-ranging tales of possibility, courage, and hope.

This anthology features stories from JA Andrews, Gustavo Bondoni, Christopher Bunn, M.C. Dwyer, Yvonne Eliot, Francesca Forrest, Chloe Garner, Corrie Garrett, Joanna Hoyt, Cate Isert, Glenn James, Jim Johnson, Ville Meriläinen, A. K. R. Scott, Sherwood Smith, and John Taloni.

Edited by yours truly and Robert McCowen.
Are you also a writer? Do you do National Novel Writing Month? It doesn't really fit my writing speed, but I love it anyway. The King's Sword started as a NaNoWriMo project in 2007, although it had a long way to go before it was published! This month I'm working on a fun new novella called Twelve Days of (Fairy) Christmas and continuing work on A Long-Forgotten Song 4.
Oh, local friends:
I was just at WT Woodson High School's Holiday Happenings on Saturday, Nov 4, from 10AM to 4PM. 9525 Main Street, Fairfax, Virginia 22031. It was my fourth year doing the show, and it was just as enjoyable as ever!
I'll also be at Robinson Secondary School's Holiday Marketplace this Saturday, Nov 11, from 9AM to 3PM. 5035 Sideburn Road, Fairfax, Virginia 22032. It is free to attend and the show always has a fantastic variety of vendors. Please come say hello!
I will be at the Fredericksburg Holiday Arts and Crafts Festival at the Fredericksburg Expo Center Dec 1-3. Friday and Saturday are 10AM to 6PM, and Sunday is 11AM to 4PM. 2371 Carl D. Silver Parkway, Fredericksburg, Virginia 22401. This show is $8 at the door, $7 for advance tickets. I'd love to see you there!
Thank you for reading!
~ C. J. Brightley
And here is the promised snippet:
The Stars's Chill Song
Francesca Forrest
True cold has come, cold that causes frost to form along your windpipe and deep into your lungs as you breathe in, cold that fingers its way through any number of layers of clothing to find what's fluttering and warm and chill it, still it.
"They'll be singing tonight. Next couple of nights, most probably." The upland farmers are saying so, and the boatmen, and Mr. Parkhurst at Five Foxes Tavern.
A cold like this peels away the blankets of air between the earth and the heavens, and if you travel out at night, you can hear the stars singing. So beautiful, but so deadly, if you stop and unknot your scarf to hear those songs more clearly. The frozen faces of the unlucky ones are always tilted upward, lips parted, eyes wide, lost in rapturous attention. The animals too—one always finds a handful, frozen standing, out in the open, both predators and prey, wild creatures and domesticated ones whose owners forgot to shut them safe in house and barn.
Those songs etch permanent patterns in the windows of the houses of Orion Falls—flourishes and feathers of frost that never fade. That's what makes the glass produced by Orion Glassworks so valuable. When the cold comes, the foreman orders extra shifts, so all the glass made in the past months can be set out beneath the stars to catch the song and take its pattern. Sophie Brule is among the girls who have been assigned; like the rest of them, she would prefer to spend tonight at Five Foxes Tavern, because there will be dancing. Ezra Brown will be fiddling, but it's not to hear his playing that Sophie wishes she could go. Ezra Brown's fiddled in Orion Falls all Sophie's young life; he's as familiar as the hills and the hundred-foot cone over the Orion Glassworks furnace. Besides, he drinks. No, if she could go, it would be to spin on the arm of Elijah Spencer and to hear the trio of fiddlers that have come down from Lower Canada.
Anna Hapgood, on the other hand, longs to hear Ezra Brown play, but she will not be at the Five Foxes Tavern either. She will be with Sophie Brule's mother, who is about to have her next baby. The night being so deadly cold, Anna will no doubt spend it at the Brule shanty, up in the hills. Little Henry Brule has come down to find Anna this afternoon, and to bring a coat to his sister at the glassworks. He practically dances as he walks alongside Anna up to the brick buildings. Is he dancing to keep his feet out of the snow? When he runs ahead, Anna can see that the soles of his boots are thin at the heels and the toes. She imagines there may well be holes in his stockings, if he's even wearing stockings.
But his cheeks are rosy and his eyes are bright. Maybe it's excitement, and not the cold, that makes him dance this way.
"I'm going to be the leader of the rescuers," he announces to Anna, walking backwards in front of her, so the two of them are face to face. "Isaac Clark got to be leader last year during the first cold snap, and Matthew Bliss was leader after him, and now it's my turn. I'm going to take everyone out of the town and up into the hills."
Every time the stars' singing can be heard, the children of Orion Falls organize rescue parties for any loose dogs, cats, or even rabbits or squirrels that are unlucky enough to become smitten. Occasionally, stray lambs have been rescued. There are hot drinks waiting for the children wherever they should call on those nights.
A wind picks up, and Henry claps his mittened hands over his ears. He turns to face forward and runs ahead, to the doors of the glassworks, then dances in place until Anna catches up.
"I made a map of the route," he says, and pulls a square of paper from his pocket and unfolds it. Broken and unbroken lines curl this way and that; there are marks for houses and woods.
"That looks like your sister's pay envelope," says Anna, noticing Sophie's name on the other side.
"She let me use it. Look, here's the stream by my house, and here's the path down to town, and here's Main Street, and here's the glassworks. Here's where we'll meet up, by the school. And this is how I'll take them. Past the Abbotts' farm, and the Lamontagnes', and the Walcotts'. We're meeting as soon as it gets dark."
Which will be soon. In the west, the sky is the color of the glassworks' furnace, but in the east the fiery shades have already burned themselves out. The men who pull the glass on metal plates to make panes for windows are coming out in twos and threes; they hastily slip into coats and jam hats on their heads. And here come the girls, who wrap and store the glass, and who tonight will climb the ladder up the side of the furnace dome and circle round and round it on the catwalk, leaning the glass against the dome, forming a temporary layer of transparent scales.
"Why did they pick the dome as the place to set out the glass?" Henry asked his sister, the year she started working at the glassworks. "Are you ever afraid you might fall?"
"Oh no, it's wonderful to be up so high; you can see the whole town. I don't know why they put the glass there. Abby told me it's because it's harder for mischief makers to try breaking it, but Molly thinks it's to get the glass closer to the stars."
Read more:
Amazon | B&N/Nook | Kobo | iBooks | Google Play | Smashwords