These are some of the standout books that I've enjoyed lately.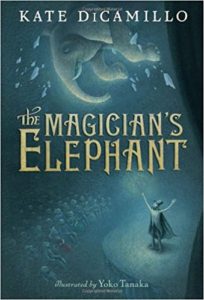 The Magician's Elephant – Kate DiCamillo – I went on a DiCamillo binge a month or two ago, and have enjoyed every single book. Definitely recommended for adults as well as children.
In a highly awaited new novel, Kate DiCamillo conjures a haunting fable about trusting the unexpected — and making the extraordinary come true.

What if? Why not? Could it be?

When a fortuneteller's tent appears in the market square of the city of Baltese, orphan Peter Augustus Duchene knows the questions that he needs to ask: Does his sister still live? And if so, how can he find her? The fortuneteller's mysterious answer (an elephant! An elephant will lead him there!) sets off a chain of events so remarkable, so impossible, that you will hardly dare to believe it's true. With atmospheric illustrations by fine artist Yoko Tanaka, here is a dreamlike and captivating tale that could only be narrated by Newbery Medalist Kate DiCamillo. In this timeless fable, she evokes the largest of themes — hope and belonging, desire and compassion — with the lightness of a magician's touch.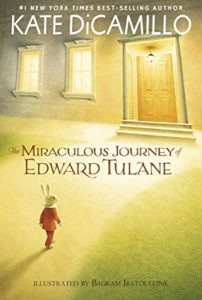 The Miraculous Journey of Edward Tulane – Kate DiCamillo – Lovely, and very much in the vein of The Velveteen Rabbit.
Once, in a house on Egypt Street, there lived a china rabbit named Edward Tulane. The rabbit was very pleased with himself, and for good reason: he was owned by a girl named Abilene, who adored him completely. And then, one day, he was lost… Kate DiCamillo takes us on an extraordinary journey, from the depths of the ocean to the net of a fisherman, from the bedside of an ailing child to the bustling streets of Memphis. Along the way, we are shown a miracle–that even a heart of the most breakable kind can learn to love, to lose, and to love again.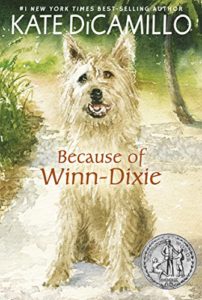 Because of Winn-Dixie – Kate DiCamillo – This is my niece's favorite book, and I can completely understand why. It's charming.
A classic tale by Newbery Medalist Kate DiCamillo, America's beloved storyteller.

One summer's day, ten-year-old India Opal Buloni goes down to the local supermarket for some groceries – and comes home with a dog. But Winn-Dixie is no ordinary dog. It's because of Winn-Dixie that Opal begins to make friends. And it's because of Winn-Dixie that she finally dares to ask her father about her mother, who left when Opal was three. In fact, as Opal admits, just about everything that happens that summer is because of Winn-Dixie. Featuring a new cover illustration by E. B. Lewis.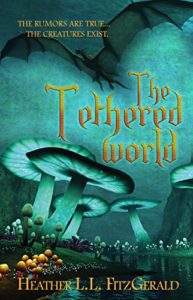 The Tethered World (The Tethered World Chronicles, #1) – Heather L.L. FitzGerald – This was chosen in an online book club of which I am a member. I very much enjoyed certain aspects of it and didn't enjoy a few others quite as much, but overall the book was a fun, clean read.
"Normal" means different things to different people. For sixteen-year-old Sadie Larcen, family dynamics look a little different than most. Parents with oddball occupations? Normal. Five homeschooled siblings—one with autism? Normal.

Police knocking on the door and parents gone missing? Definitely not normal!

When Sadie uncovers the reasons behind her parents' disappearance and the truth about her heritage, she despairs of ever feeling normal again. Especially when she learns that her mother's interest in Bigfoot, Dwarves, and other lore extends beyond her popular blog. Sadie's family has been entrusted with keeping the secrets of the Tethered World—home to creatures that once roamed the Garden of Eden.
Sadie and her siblings must venture into this land to rescue their parents. Stepping out of reality and into a world she never knew existed is a journey Sadie fears and resents. But she chooses to risk all to save her family.
She's just not sure she will survive in the process.

Young Adult Christian Fantasy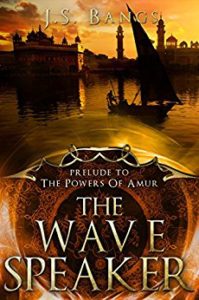 The Wave Speaker (The Powers of Amur #0.5) – J.S. Bangs – A magnificent, dark(ish) fantasy with some beautiful noblebright aspects even in the midst of the darkness. Mike Reeves-McMillan introduced me to J.S. Bangs as a fellow noblebright fantasy author, and I'm very glad of it. Powerful prose, a rich world, and deep, complex characters make this a series you don't want to miss.
Pirates. Sharks. And a woman walking across the sea in a storm.

Patara is returning from a trade voyage when he is chased by pirates and runs through a storm—and then he catches a woman walking atop the waves and speaking to the sea. He and his crew pull her out of the water, only to find that they've caught more than they bargained for. Will Patara sacrifice his cargo and his livelihood to save the last member of a mystic tradition?

This short novel is an introduction to the forthcoming epic fantasy series The Powers of Amur.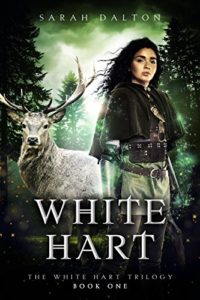 White Hart (White Hart, #1) – Sarah Dalton – This was another selection in my online book club, which I enjoyed. It was a little more YA than I'd prefer, and I think the characters annoyed me a little, but the character growth made sense, especially given that there are several more books in the series. The world is rich and the challenges the characters face are entertaining.
The first novel in this coming of age fantasy series filled with magic, adventure, and heart.

In a land where magic has dried out, Mae Waylander is the last magic wielder in Aegunlund. She is the craft-born. But Mae has kept her true identity hidden from the world, and she's not about to reveal her secret. Not when the King is searching for the craft-born to marry his heir, Prince Casimir.

In Mae's town of Halts-Walden, the ambitious miller claims his daughter Ellen is the craft-born. All Mae has to do is sit back and wait until Casimir and Ellen are married, then she will finally be free of the threat of her fate. But on that day an event so shocking and terrible occurs that Mae finds herself entering the neighbouring cursed forest on a quest she never thought she'd have to follow.

Join Mae as she rides her white stag through the Waerg Woods with a pampered prince at her heels. She's out for revenge and nothing—no one—will get in her way.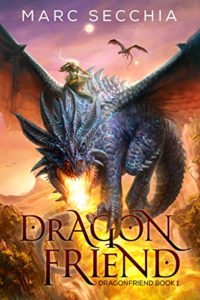 Dragonfriend (Dragonfriend #1) – Marc Secchia – Just wow. Marc Secchia is a new favorite author. The dragons are amazing, the human characters are complex, and the world is rich and beautiful and magnificent. This one is classified as YA, but I think it's full-on epic fantasy that happens to have a coming of age story with a young protagonist. It's more than "just YA" – it's epic fantasy first and YA/coming of age second. Definitely enjoyable for those who don't normally read YA fantasy.
Gold Award winner – 2017 Readers Favorite Awards (Young Adult / Coming of Age) and Gold Award winner – 2016 Independent Publisher Book Awards

Stabbed. Burned by a dragon. Abandoned for the windrocs to pick over. The traitor Ra'aba tried to silence Hualiama forever. But he reckoned without the strength of a dragonet's paw, and the courage of a girl who refused to die.

Only an extraordinary friendship will save Hualiama's beloved kingdom of Fra'anior and restore the King to the Onyx Throne. Flicker, the valiant dragonet. Hualiama, a foundling, adopted into the royal family. The power of a friendship which paid the ultimate price.

This is the tale of Hualiama Dragonfriend, and a love which became legend.

Series Note:

Dragonfriend is a YA fantasy novel set in the same world of the bestselling dragon adventure series Shapeshifter Dragons and Shapeshifter Dragon Legends. It can be read in any order alongside Aranya, Shadow Dragon and The Pygmy Dragon. Awesome dragons, epic stories and deep dragon lore abound in this unique series set in a world of volcanic islands above the clouds.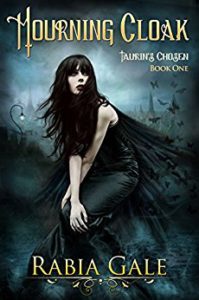 Mourning Cloak (Taurin's Chosen, #1) – Rabia Gale – This was dark and beautiful, and I'm looking forward to finishing the series. It was fairly short; I think it's a novella rather than a full novel. If you're looking for something new and creative, check this one out.
A failed hero. A woman turned into a demon. Their second chance.

Kato Vorsok lost everything the day he was defeated at the gates of his enemy's stronghold. Deserted by his god, estranged from his people and living in exile, he wants nothing to do with his old life.

Until the night he encounters a wounded mourning cloak, a demon who can walk through walls and spear a man's heart with a fingernail.

She knows who he is. She speaks his dead wife's name. And she needs his help.

Kato failed once. Can he fight again—and win?