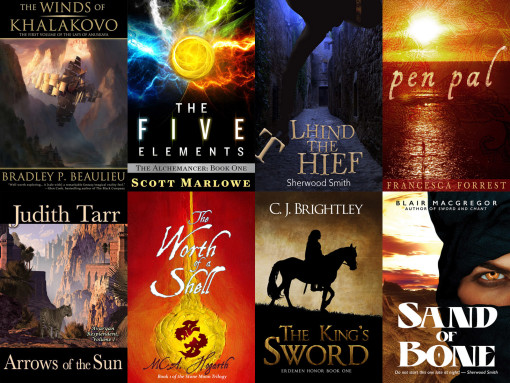 As part of the Indie Fantasy Bundle I'm a part of, I was given 5 free codes to do with as I please. The story bundle includes the following books:
The Winds of Khalakovo by Bradley P. Beaulieu
The Five Elements by Scott Marlowe
Lhind the Thief by Sherwood Smith
Pen Pal by Francesca Forrest
Arrows of the Sun by Judith Tarr
The Worth of a Shell by M.C.A. Hogarth
The King's Sword by C. J. Brightley
Sand of Bone by Blair MacGregor
Here are the (hopefully simple and hopefully complete) rules:
You post, tweet, or blog about the Indie Fantasy Bundle.
You comment with a link to said post(s) below.
Each post/tweet/blog = 1 entry in the giveaway. You'll get one entry per platform you post on.
On Wednesday Feb 11 at 5PM, I'll use the entries to randomly give away my five bundles. I will announce the winners in the comments here.
The winners will then go to Story Bundle, enter their unique code, and get 8 free books.
Let me know if you have any questions. Go!