As I've mentioned, The King's Sword is currently in an indie fantasy StoryBundle! If you haven't read it, or even if you have, the bundle is a great way to get a copy of The King's Sword as well as seven other fantastic books by indie authors. I'm thrilled to be included in such talented company.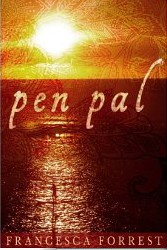 One of my fellow authors, Francesca Forrest, wrote a captivating book called Pen Pal. Blair MacGregor, the bundle curator, writes:
From the first lines of Pen Pal, I was utterly charmed by the voice, the setting, the character, and the message-in-a-bottle premise. But the captivating whimsy of the opening soon tightens into deadly urgency. What makes Pen Pal a real treat from beginning to end is Francesca's ability to plunk non-existent places, unacknowledged gods, and a political uprising fueled by the earth's fires smack in the middle of what otherwise might be our own mundane world.
Francesca was kind enough to answer a few questions for me.
Can you talk about your writing process?  How do you get from vague idea to finished story?
Pen Pal started as a post on my blog. I posted Em's first letter, a message that she sticks in a bottle and throws in the sea. It begins, "Dear person who finds my message, I live in a place called Mermaid's Hands. All our houses here rest on the mud when the tide is out, but when it comes in, they rise right up and float."  I had this image of a community of connected houseboats, and a restless child in that community.
It was going to be just a one-off post, but people wanted to know more. So then I decided that the person who would get Em's message in a bottle was someone whom I'd dreamed about: someone imprisoned in a temple in a volcanic crater. From there, the exchange of letters grew and grew; I posted one every few days over a couple of months.
After I finished, people encouraged me to expand what was essentially a novelette into a full-scale novel, so I did. That involved lots of research, addition of characters, and a couple of large changes, but the basic story stayed the same: two seemingly helpless people whose friendship helps make them both heroes.
What was your favorite part of the creative process for this book?
My favorite part, from the time I wrote the first letters through now, with the marketing and publicizing, has been the interactions that the story has brought me. Pen Pal put me in touch with the wife of the prime minister of Timor-Leste and a political prisoner in India. Thanks to the book I learned of a remarkable real-life pen pal friendship, spanning 50 years, that started out as an exchange of letters between a girl in a small village in the Philippines and another in Kansas. I have loquats growing in my living room from seeds given to me by the daughter of the girl from the Philippines.
Wow! How wonderful to know that your book has touched so many people. Can you talk about specific aspects of your book?
I get inward glee thinking of all the things that come together in the story: a lava lake and a floating village, pirate legends and clever crows, a hurricane and an insurrection. These thing are like the bits of colored glass in a kaleidoscope—they could form any number of patterns. Pen Pal shows one, and I hope it's one that people like.
Find Francesca at her blog and click here to find more about Pen Pal. Find the Bundle here.