These are some of the books I have been enjoying lately.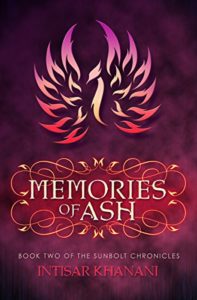 Memories of Ash by Intisar Khanani – This is the novel-length sequel to the novella Sunbolt that I enjoyed so much a few months ago. Sunbolt is on the longer end for a novella, so if you're not normally a fan of shorter works, please don't skip it! I believe this was planned to be novella-length as well, but grew into a novel. Not a bit of the extra length is extraneous fluff, either – this is rich and glorious and exceptionally fun noblebright fantasy. I was a bit worried that one of my favorite characters was gone for good, but we meet some old friends as well as new friends and allies to counter old enemies and new dangers. Intisar Khanani is one of my new favorite authors, and when the third book in this series comes out, I will probably get them all in paperback.
In the year since she cast her sunbolt, Hitomi has recovered only a handful of memories. But the truths of the past have a tendency to come calling, and an isolated mountain fastness can offer only so much shelter. When the High Council of Mages summons Brigit Stormwind to stand trial for treason, Hitomi knows her mentor won't return—not with Arch Mage Blackflame behind the charges.

Armed only with her magic and her wits, Hitomi vows to free her mentor from unjust imprisonment. She must traverse spell-cursed lands and barren deserts, facing powerful ancient enchantments and navigating bitter enmities, as she races to reach the High Council. There, she reunites with old friends, planning a rescue equal parts magic and trickery.

If she succeeds, Hitomi will be hunted the rest of her life. If she fails, she'll face the ultimate punishment: enslavement to the High Council, her magic slowly drained until she dies.

Memories of Ash is the highly anticipated sequel to Sunbolt, Book 1 of The Sunbolt Chronicles.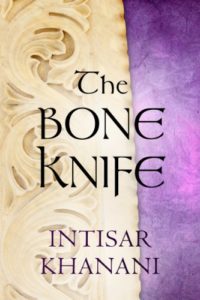 The Bone Knife by Intisar Khanani – This was actually the first of Khanani's stories that I read – it's free on Amazon (as of this writing). I'm always intrigued to see how other authors treat faerie, and I was not disappointed. Khanani's faerie is alien, dangerous, and unpredictable, and the world is richer for it.
Rae knows how to look out for family. Born with a deformed foot, she feigns indifference to the pity and insults that come her way, learning to be wary of all things beautiful. So Rae instantly distrusts their latest visitor: an appallingly attractive faerie whose mere presence imperils the secret her sister guards. But when the local townspeople show up demanding his blood, Rae must find a way to protect both her sister's secret and their guest. Even if that means risking herself.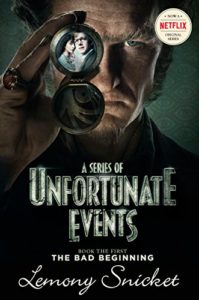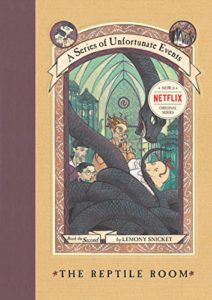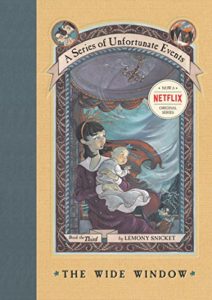 The Bad Beginning (A Series of Unfortunate Events), The Reptile Room (A Series of Unfortunate Events), and The Wide Window (A Series of Unfortunate Events) by Lemony Snicket – I picked these up from the library a few months ago (with a different cover) because I'd never read the series and it seemed like something I should have read. It's not one of my favorite children's series, but I do find it an interesting take on voice and story for children. It was fun enough that I started watching the Netflix series, which is relatively faithful to the books (so far) but gives more information about what's going on in the background with the Baudelaire parents. The show splits each short book into two episodes of the show, but while it expands a bit, everything is coherent and consistent with the books. It also presents Lemony Snicket (the author and narrator) as more of a character than he is in the books. Neil Patrick Harris is hilariously over-the-top evil as Count Olaf, and I'm not sure anyone else could pull it off as well as he does. The books are marked ages 8-12.
NOW A NETFLIX ORIGINAL SERIES

Are you made fainthearted by death? Does fire unnerve you? Is a villain something that might crop up in future nightmares of yours? Are you thrilled by nefarious plots? Is cold porridge upsetting to you? Vicious threats? Hooks? Uncomfortable clothing?

It is likely that your answers will reveal A Series of Unfortunate Events to be ill-suited for your personal use. A librarian, bookseller, or acquaintance should be able to suggest books more appropriate for your fragile temperament. But to the rarest of readers we say, "Proceed, but cautiously."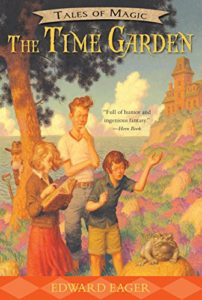 The Time Garden by Edward Eager – I picked this up from the library, not realizing it was the fourth in a series (the version in my library has no series markings whatsoever!). Without having read the previous books, the story is quite easy to follow. Although it's creative, the story has not enraptured me. It's marked ages 7-10, and I'm not sure whether my lack of interest is a result of not being used to this younger end of the YA spectrum, or whether it's the story and style itself.
Time and again, the children from Knight's Castle have longed for another magic adventure. But you can't find magic just anywhere. It doesn't just grow like grass. It requires the right place and the right time—
Or thyme, as the case may be.
For at Mrs. Whiton's house, magic grows wild as the fragrant banks of thyme in her garden. Eliza insists that time doesn't grow, it flies—yet growing in the garden is olden time, future time, and common time. Or so says the Natterjack, the odd toadlike creature who presides over the garden and accompanies the kids on a series of perilous, hilarious, always unpredictable adventures. "Anything can happen," the Natterjack says with a wink, "when you have all the time in the world."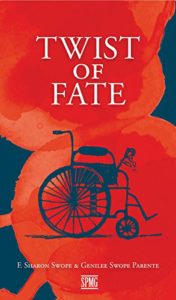 Twist of Fate by F. Sharon Swope and Genilee Swope Parente – Mysteries aren't my normal genre, but I met the authors at a local event and picked this up. It's not exactly a cozy mystery – the sleuth is a professional detective, male, and doesn't work in a flower shop or cafe. But it has that softer, gentler sort of feel. Maybe a soft-boiled mystery? A whodunit with romance? In any case, I enjoyed it. The main characters were likable but not without their flaws, which played into the story in believable ways. If you're looking for hard-boiled noir, this isn't it, but if you're looking for a slightly different take on mystery, it's definitely worth checking out.
Private investigator Sam Osborne is still setting up his new office when he gets a call from young heiress Casey Lewis asking him to investigate several recent attempts on her life. Twenty-year-old Casey is wheelchair-bound, the use of her legs taken in the same wreck that killed her parents just after her father changed his will to leave his business and fortune to her. Now, on the eve of full inheritance, someone is trying to kill her. Danny Jones has been homeless since he was a child. His long-time protector has died, leaving him completely on his own. With a large storm bearing down on the DC Metro area, he takes refuge in a boxcar, only to wake far away; stranded in one of the worst blizzards to hit the area in years. A twist of fate brings Danny to Casey's side just in time to save her from another attempt on her life. Through the dark days of the storm, Casey and Danny work together to survive. As the storm passes, the clock starts ticking in a race to find who is trying to kill Casey before they succeed. Sam works feverishly while Danny stands ready to protect Casey from any threat, and all the while Casey and Danny's feelings for each other grow. Will Sam uncover the plot against Casey in time, or will the budding love between Danny and Casey be cut short by tragedy?
What are you reading?