These are some of the books I've been enjoying lately: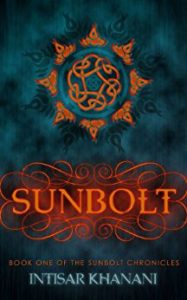 Sunbolt by Intisar Khanani – This was recommended to me by W.R. Gingell, one of my favorite authors, and of course the cover was done by the ever-so-talented Jenny at Seedlings Design Studio, who did our cover for Light in the Darkness and also the cover for The Lord of Dreams. I loved it – loved the characters, loved the setting, loved the prose, loved everything. It is the first book in a trilogy, so do not expect complete closure at the end. However, the book does end in a logical place; it's an obvious transition point to a new chapter of the story and not an abrupt cliffhanger. I'm looking forward to continuing the series in Memories of Ash. Very noblebright.
The winding streets and narrow alleys of Karolene hide many secrets, and Hitomi is one of them. Orphaned at a young age, Hitomi has learned to hide her magical aptitude and who her parents really were. Most of all, she must conceal her role in the Shadow League, an underground movement working to undermine the powerful and corrupt Arch Mage Wilhelm Blackflame.

When the League gets word that Blackflame intends to detain—and execute—a leading political family, Hitomi volunteers to help the family escape. But there are more secrets at play than Hitomi's, and much worse fates than execution. When Hitomi finds herself captured along with her charges, it will take everything she can summon to escape with her life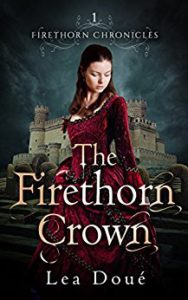 The Firethorn Crown by Lea Doué – This was a lovely reimagining of the fairy tale Twelve Dancing Princesses. The color and light of the human world seem even brighter in contrast with the rich darkness of the fairy world. All the many characters were characters in their own right rather than just a crowd in the background. The romance was clean, finely drawn, and thoroughly enjoyable. I'm looking forward to continuing this series as well. Very noblebright.
The crown is her strength. The crown is her weakness.

Princess Lily, the eldest of twelve sisters and heir to a mighty kingdom, desperately seeks a break from her mother's matchmaking. Tradition forbids marriage with the man Lily loves, so she would rather rule alone than marry someone who only wants the crown.

Fleeing an overzealous suitor, Lily stumbles into a secret underground kingdom where she and her sisters encounter a mysterious sorcerer-prince and become entangled in a curse that threatens the safety of her family and her people. Lily can free them, but the price for freedom may be more than she's willing to pay.

The Firethorn Crown, a re-imagining of The Twelve Dancing Princesses, is the first novel in The Firethorn Chronicles, a series inspired by fairy tales and other classic stories. Follow the sisters on their adventures in a land where sorcery is feared, women can rule, and dragons fly.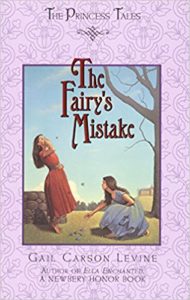 The Fairy's Mistake by Gail Carson Levine – This is a children's book marked grades 3-6; I picked it up while looking for books for my daughter. She was a little concerned that it would be a bit scary for her (she's very sensitive and tender-hearted, and only five years old), but after we read a few chapters together, she was more confident with it. I read the rest just to be sure it wasn't going to be too much for her, and then let her read to the end on her own. I enjoyed the humor and gentle sarcasm of the story, and Cutie thought it was hilarious. It was very much a success at moving up to "better" fairy books than the ones she has been devouring.
Gail Carson Levine charmed the world with Ella Enchanted, her spirited retelling of the Cinderella story. Now this award-winning author turns her attention to two more classic fairy tales, and deftly turns them upside down and inside out with her trademark wit and hilarity.

In The Fairy's Mistake, two very different sisters have two very different encounters with the fairy Ethelinda. Rosella is kind and helpful. Her reward: Jewels and gems tumble out of her mouth whenever she speaks. Myrtle is rude and spiteful. Her punishment: Bugs and vipers slither out of her mouth. The fairy Ethelinda feels she's meted out justice just right–until she discovers Rosella has been locked up by a greedy prince and Myrtle is having the time of her life!
What have you been reading?