Some of these I actually read a while ago, but I'm only just now getting around to blogging them. As you might be able to guess, I've been a bit busy.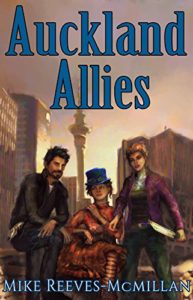 Auckland Allies by Mike Reeves-McMillan – I've been a fan of Mike's writing for a while, and we're friends on social media (isn't the internet great? Mike is a Kiwi and I live outside Washington, D.C.; without the internet, we would probably never have even known each other existed. But I consider him a friend now, even though I've never met him.). He writes the kind of characters I enjoy – flawed but likable, kind, courageous (even though they're frequently terrified), and of a basically gentle spirit. Auckland Allies is the first book in one of several new series. It's set in Mike's home town and filled with local landmarks, delightful slang, and dozens of geeky references. He has a different book in Light in the Darkness: A Noblebright Fantasy Boxed Set.
As bit players in the world of magic, Tara, Sparx, and their clairvoyant acquaintance Steampunk Sally are careful to stay clear of New Zealand's supernatural politics. So after Sally uses her powers to win a little money at blackjack, it's a nasty surprise when hired goons come after them.

Hitting the streets, they try to find out who these Blokes in Black work for, why such a dangerous and powerful figure has his sights set on three magical nobodies–and how to protect themselves.

They discover a plot to use Auckland's volcanoes in a massive demon-summoning ritual, which nobody else is equipped to stop. The question is: are they?

Contemporary urban fantasy, with a touch of technothriller.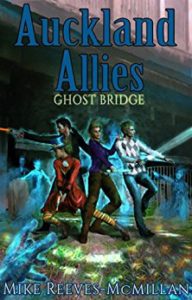 Auckland Allies: Ghost Bridge by Mike Reeves-McMillan – The stakes are raised, and the Auckland Allies rise to the challenge, though not without some fear and trembling and emotional growth. Just as delightful as I have come to expect from Mike.
The Auckland Allies discover a mysterious threat in the city's oldest cemetery, and their first attempt to intervene leaves one of them in hospital – the same hospital the necromancer calling himself "Mr. Smith" is about to attack with four thousand angry Victorian ghosts.

Hundreds of the city's most vulnerable people are in danger. Will a magical manuscript by Sir Isaac Newton provide the knowledge they need to take Smith down? Or can Steampunk Sally use her deep connection with Auckland to defend its citizens?

Contemporary urban fantasy, with a touch of technothriller.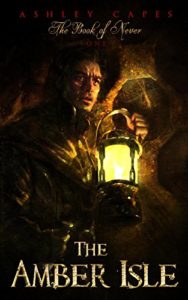 The Amber Isle by Ashley Capes – This is the first in a series of epic fantasy novellas, and it's not really a complete story. It feels like the first act of a novel. It's creative and enjoyable (albeit a tiny bit dark), but I'm not sure how I feel about the story being broken up into novella length parts. I think a little more of a solid ending would have felt more satisfying for me while still pulling me onward to the next book.
After years of running down dead-end clues, the rogue Never has nearly given up his quest for answers; his blood is cursed and his true name a mystery, yet no library, no healer and none who claim to know dark magics have ever been able to help.

Until he steals a map to the mysterious Amber Isle, which might just hold the answers he needs.

But Never isn't the only one who wants the map – an old enemy, Commander Harstas, also seeks it and Harstas craves revenge for the deaths of his men.

Forced to flee through a war zone, Never soon stumbles across a group of treasure-hunters hoping to discover the wonders of the Amber Isle for themselves. But the deeper they venture into the Isle, the more deadly it grows.

Trapped between the greed of the treasure hunters, cunning traps in the Isle itself, the threat of Harstas' fury and his own desperation to finally uncover answers, Never must find a way to unlock the Isle's ancient secrets and escape – or perish without ever learning the truth.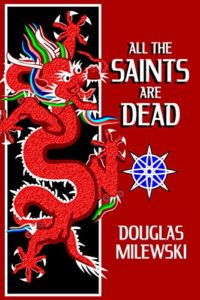 All the Saints are Dead by Douglas Milewski – Dark and beautifully written and horrible and creative and did I mention dark? Not for younger readers and/or readers hoping for a cheerful young adult adventure with a touch of romance. In addition to what's mentioned in the blurb below, I also got a bit of a steampunk vibe from it, albeit an Asian-influenced steampunk rather than Victorian.
The Last Days of Targa Tik

For twenty years, Targa Tik has ridden a dragon in service of the Saints, serving her evil lich masters fiercely, never questioning the morality of her deeds. When a death gets Targa promoted, she comes face-to-face with a corrupt government that values money above all things, selling dragon rider positions to the highest bidder. Targa's opposition to this practice begins a cascade of events that rock Astrea, rock the world, and ultimately rock the heavens themselves.

Taking place in the world of Endhaven, All the Saints Are Dead opens the Swan Song series, a wuxia inspired sword and sorcery fantasy, featuring fast pacing, deadly politics, and personal betrayals.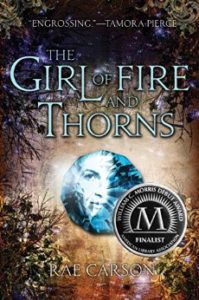 Girl of Fire and Thorns by Rae Carson – This was amazing. Plus it has an absolutely LOVELY cover and title. I struggle with titles at times, and this one is unique and memorable and compelling. The texture on the cover and the interesting typography really work for me, and once you read the book, the jewel in the middle makes sense. This is a bit darker than I usually like, but it was done so well I couldn't put it down. Definitely recommended.
The first book of the New York Times best-selling trilogy, which Divergent author Veronica Roth called, "Intense, unique… Definitely recommended."

Once a century, one person is chosen for greatness.

Elisa is the chosen one. But she is also the younger of two princesses. The one who has never done anything remarkable, and can't see how she ever will.

Now, on her sixteenth birthday, she has become the secret wife of a handsome and worldly king–a king whose country is in turmoil. A king who needs her to be the chosen one, not a failure of a princess.

And he's not the only one who seeks her. Savage enemies, seething with dark magic, are hunting her. A daring, determined revolutionary thinks she could be his people's savior, and he looks at her in a way that no man has ever looked at her before. Soon it is not just her life, but her very heart that is at stake.
Elisa could be everything to those who need her most. If the prophecy is fulfilled. If she finds the power deep within herself. If she doesn't die young. Most of the chosen do.
What are you reading?