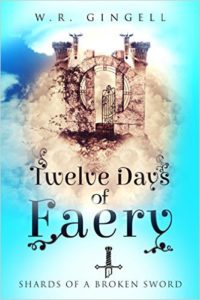 More adorable characters from W.R. Gingell! Althea and Markon are the two main characters in Twelve Days of Faery.
Althea is confident and competent, magnificently understated, and somehow adorable rather than intimidating. She's kind and funny and endearing, while remaining supremely focused on her mission. She's quite understandably fascinating to Markon (and to the reader), and she's a wonderful example of a "strong female character" who isn't written as a physically rough-and-tough sex symbol with too much attitude.
Markon is the point-of-view character, and he's immediately likable. He's overworked, beset by annoying visiting dignitaries, and deeply upset by the curse afflicting his son (and the poor young women who suffer as a result). He also has a dry sort of humor, a wry way of looking at the world that makes every moment of the story entertaining.
One thing I particularly enjoy about Gingell's writing is that she's superb at conveying a lot of emotion and subtext in very few words. She uses a light hand, showing great depth of emotion with a few carefully chosen words. The effect is that I end up wanting more more more!
In Twelve Days Of Faery, King Markon of Montalier is at the end of his tether. His son, Prince Parrin, is afflicted with a rather nasty curse that slaughters, maims, or brutally attacks any woman with whom he so much as flirts. After the rumour that sweeps around the kingdom, promising that any woman breaking the 'curse' will be eligible to marry the prince, there is no shortage of willing volunteers. Unfortunately, there is also no shortage of bodies piling up.

Markon needs to do something, but what? Can a visiting enchantress from Avernse help, or is she simply another accident waiting to happen? And will Markon be able to give her up to his son if she does break the curse?

Twelve Days of Faery is the first novella in the Shards Of A Broken Sword novella trilogy.