This blog post series is about books that stuck with me for various reasons. Some of them are special to me because of the age at which I first read them, and they introduced me to a new thought or emotional experience. Some of them are special because they introduced me to a new favorite author. A few stuck with me because I hated them so much. But not this one!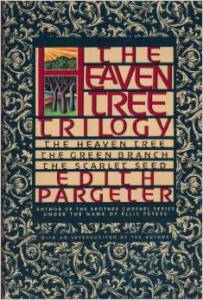 The Heaven Tree Trilogy by Edith Pargeter is one of my favorite books/series ever. This is a book to read again and again. Love, passion, envy, hate, tragedy, honor, forgiveness, compassion… it's all there in gut-wrenching clarity.
You'll note that the editorial reviews on Amazon say that it isn't quite as good as some of her later works. I'm not sure I agree. I love her other books (the ones that I've read), but I think this one is especially beautiful. Other readers tend to agree. Of the 50 reader reviews on Amazon as I write this, the book is rated a 4.9/5, the highest rating I've ever seen on Amazon of a book with more than a handful of reviews.
The Heaven Tree Trilogy is beautiful in every way. It's the reason I started reading historical fiction. If I could recommend ONE fiction book to you, it would probably be this one.
I love Edith Pargeter's writing so much that one year, my husband found me a rare copy of The Marriage of Meggotta. Pay no attention to the low ratings on that page – apparently people can't be bothered to read the entire book or realize that it's not a YA book… it's just a book about young people. I also love The Brothers Gwenydd Quartet (Sunrise in the West, the Dragon at Noonday, the Hounds of Sunset, and Afterglow and Nightfall) and A Bloody Field by Shrewsbury. Edith Pargeter also wrote as Ellis Peters for the Brother Cadfael series and other books.