Occoquan Arts and Crafts Show
I sent an email, but I realized I forgot to actually post about the Occoquan Arts and Crafts Show on my blog! Sorry about that. Remember last year, when I didn't get the organizational email and my dad hauled 8 million tons of books halfway down Mill Street? That didn't happen this year, so the show got off to a good start! Saturday was hot and humid; there is nothing quite like a long day in humid heat to make me appreciate air conditioning and a shower before bed. Thunderstorms were predicted for Sunday, but the rain and wind held off until after the show, which made all the vendors grateful.
Thank you to everyone who came! It was very nice to meet you. And thank you especially to those of you who saw my email and came to say hello!
I will be back for the fall show, but I'll be there only with my jewelry, not books. You can find me in the same spot, M104, with my handmade jewelry as Shy Violet. But never fear! I love the show and I'll be back as an author next year.
Clean Romance Giveaway
I'm hosting another giveaway, this time for fans of clean romance. Click here to enter.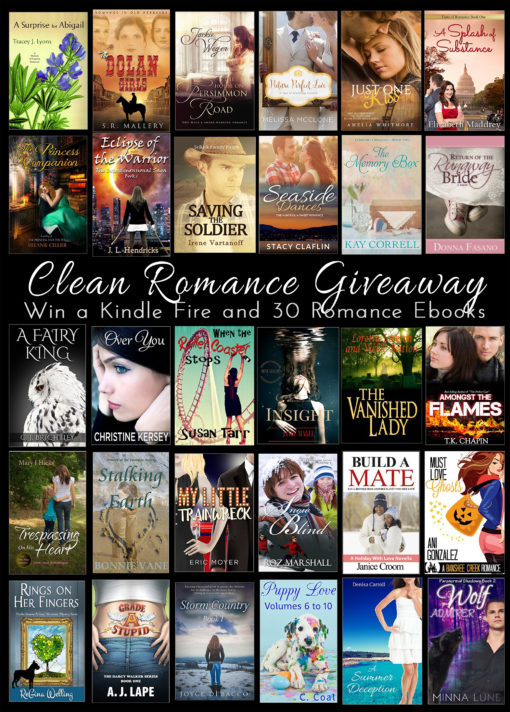 The books span a wide range of romance subgenres, including contemporary romance, historical romance, a contemporary western romance, several paranormal romances, a sci-fi romance, and my own fantasy romance A Fairy King. Some of the books are inspirational Christian romance, while others are not Christian but are still clean. I'm a fan of Elizabeth Maddrey, who wrote A Splash of Substance, the Christian romance in the upper right corner of the image below. Her book Wisdom to Know is free on Amazon.
If you didn't see the earlier giveaways, you might be wondering "what's the point?" Well, we're all looking for new readers! By entering, you're sharing your email address with all the authors so we can tell you about our new releases and other writing news. As the giveaway host, I send out an email to everyone who enters before sharing your email with the other authors. That email gives you a chance to unsubscribe right away, in case you don't want to hear from the other authors at all. Many of us have special freebies for subscribers, so even if you don't win, I hope you'll be glad you entered. You can also unsubscribe from individual authors' lists afterwards. You can check out the giveaway here, and also check out the books in the prize below.