The authors of Luminous, including yours truly, are celebrating the release of the boxed set with a series of interviews and a giveaway! I'm hosting J.S. Bangs interviewing Intisar Khanani on my blog today.
What is noblebright fantasy? Noblebright fantasy is fantasy set apart by a sense of hope. Noblebright fantasy includes at least one character who, although flawed, still deliberately pursues goodness. And that goodness has the power to make a difference. In a noblebright story, even villains are not without hope. Their redemption isn't guaranteed, of course, but it is a possibility. You can find more detail here on Noblebright.org.
Intisar Khanani is the author of Sunbolt, book one of The Sunbolt Chronicles. J.S. Bangs is the author of Heir of Iron, book one of The Powers of Amur.
Be sure to check out the other interviews, too! Oh, and don't forget to scroll down to enter the giveaway!
J.S., take it away!
J.S.: I'm really pleased today to present a brief interview with Noblebright author Intisar Khanani, who shares the recent Noblebright anthology with me. Now I admit: I didn't know anything about Intisar before we were in this anthology together, but we both have family which is partly in the American Midwest, and partly overseas.
Also, she has excellent taste in books, as detailed below.
Intisar, what is Noblebright to you?
Intisar: It's writing with hope, and with a sense of struggle towards something that is just and true. We don't always reach such high ideals, but noblebright stories give us heroes and heroines we can believe in, people who are trying to do the right thing, however hard that may be.
J.S.: Other than your own, which is your favourite book in the Luminous collection; and why?
Intisar: I haven't yet read the full anthology (I'm working on it, I promise!), but so far my favorite is Wolfskin by W.R. Gingell. I loved the heroine's strength of character as well as her absolute obliviousness to both love interests (hands down one of the best love triangles I've read, and I usually hate love triangles). That said, I also really enjoyed C.J. Brightley's Lord of Dreams—it took me a little while to get into, as the heroine starts out quite young and ages up to an adult over the course of the story, but I stayed up late reading it, which says quite a bit about it!
J.S.: Do you have plans for a sequel to your novel included in Luminous? 
Intisar: Sunbolt is the first in a projected four-book series. Book 2, Memories of Ash, released last year, and I'm hoping to have Book 3 out sometime next year (but shh! I didn't say that out loud!). I absolutely love writing Hitomi. She's courageous and loyal, and stubborn as all get out, and about as resourceful as you can get. I'm looking forward to writing the rest of her story!
J.S.: Are you a speed writer, or a turtle writer?
Intisar: I'm totally a turtle, but I'm trying to strap on roller skates to see if that helps…. I tend to spend a month or so outlining, then anywhere from 3 to 6 months writing a first draft, and then I go through 3-5 revision rounds, each one lasting a few months. It's absolutely exhausting, and I sometimes do wonder about the life decisions I've made. Nothing to do but keep going!
J.S.: Tea or coffee?
Intisar: What even is this question? Clearly, the answer is hot chocolate.
J.S.: Music or no music?
Intisar: Absolute silence.
Thanks so much for having me on your blog!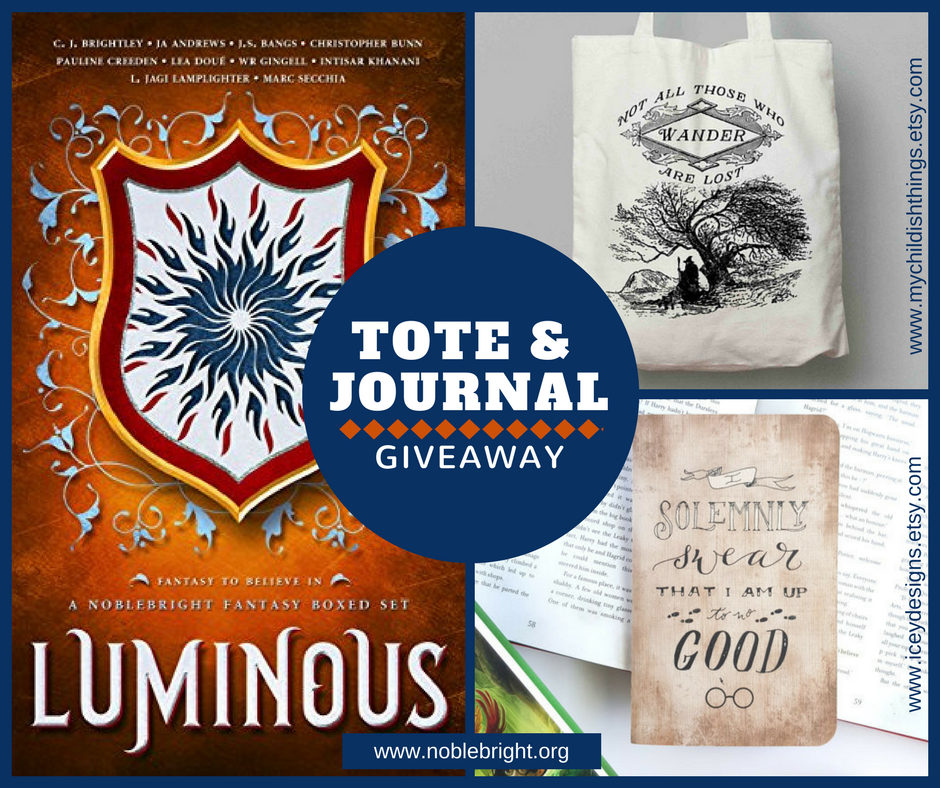 For a chance to win this awesome Lord of the Rings book tote, Harry Potter journal, plus swag from LUMINOUS authors, enter here: